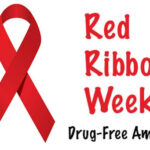 Red Ribbon week is the largest drug free campaign in the United States. This year's campaign is called Be Happy, Be Brave, Be Drug Free. It will be celebrated from October 26 – October 29. Hay Springs Elementary school will be supporting a drug free lifestyle by having dress up days. Middle school and highs chool are welcome to participate if you want!
October 26th – Wear Pajamas and follow your dreams
October 27th – Wear your shirt backwards- Turn your back to drugs!
October 28th – Wear red to show you are drug free
October 29th – Drugs are scary! Wear your halloween attire and change into your Halloween costume after specials.