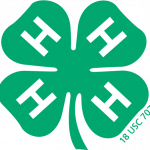 Achievement Application & Career Portfolio
This year the 4-H Council is allowing the Junior and Intermediate age divisions to be eligible to complete either the Achievement Application or the Career Portfolio. These are due September 30th. The Senior division must complete the Achievement Application in order to be eligible for State Awards. By completing these applications, youth are eligible to win additional $25 cash prizes presented at the Achievement Banquet in October. The Achievement Application can be found at the following website: https://4h.unl.edu/achievement-application. Youth will need to select a curriculum area. To complete the Achievement Application, youth have a maximum of 3 pages to include the following information: collective 4-H experiences, 4-H experiences within the last year, 4-H Leadership Experiences, Non 4-H Leadership Experiences, Community Involvement, and Career Spark.
Hay Springs Junior Robotics
This year the Junior Robotics theme is BoomTown Build. The Junior Robotics program is for youth ages 6 to 10 interested in learning more about robots and problem solving through STEM. This group meets once a week after school from 4 to 5:30 at the Hay Springs School. They then attend a competition in January. Please contact Melissa Mracek at 402-322-0655 if you think your child is interested in participating by September 16th. The first meeting will take place around the first of October.
Shooting Sports Practice
Shooting Sports practice for BB Gun and Air Rifle will start on October 7th. They practice from 3:30 to 7 depending on when the youth show up. During October through December, practice is held the first and third Mondays of the month. In January they will start practicing every month and start attending the Panhandle Best Shoots. Youth need to be registered for 4-H to participate. Parents need to sign waivers the first meeting. Please contact Bruce Salisbury or Donna and Kevin Jech for more information.
Baking Basics
Baking Basics is back!! The first session will take place on Friday, September 13th starting at 10 am and will end at 3 pm. The youth will have the opportunity to cook and start working on their sewing project for the year. The fee for this workshop is $10. Please register by September 6th by contacting Melissa Mracek at mmracek2@unl.edu or (308) 327-2312. This event is open to anyone interested in baking and sewing projects.