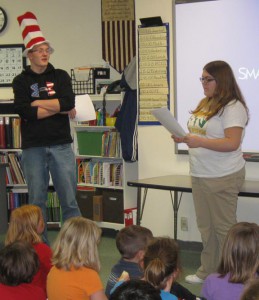 We started the afternoon celebration with the ebook The Lorax.  Many students knew that The Lorax movie opened in theaters last Friday.  The National Honor Society took over as the classes went to separate rooms.
The fourth and fifth grade talked about the Lorax then drew their own versions of the Once-ler.  As everyone knows, you only see his hands in the book.
The second and third graders listened to My Many Colored Days then colored their personal version of their "colored day."  While they worked, Mrs. Binger read Fox in Socks to the group.  This book will tie anyone's tongue in a knot.
Kindergarten and first grade did a Lorax color by number picture, but had to do some math to figure out what colors to use.  They finished by listening to The Cat in the Hat.
The celebration finished with Laurin and Jordan doing a duet reading of Green Eggs and Ham.