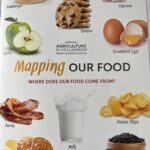 First grade applied for and was awarded a $100 grant through the Nebraska Farm Bureau Foundation to study where our food comes from and where it is produced in Nebraska. Our first lesson this week was about milk. We learned about a dairy farm and milking machines in Diller, Nebraska. Locally we also were fortunate to have community member Megan Reimann send us a video about how to care for and milk a dairy cow! She also sent us fresh cows milk. It was very interesting to see the difference between fresh milk and store bought!
We also used some of our grant money to buy the ingredients to make homemade ice cream in a bag! Our main reading story this week was "From Cows to You." We are able to tie in our Agriculture in the Classroom activities to include reading and social studies content as well!
Our curriculum has 10 different food items raised and produced in Nebraska so be looking for more updates!