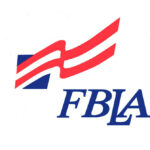 On Sunday, April 10th the Hay Springs FBLA(Future Business Leaders of America) team traveled to Kearney, NE to compete in the state competition along with 1700 other students. Hay Springs came home with three honorable mentions and a 6th place award.
At state competition FBLA gives awards to 8th place and then, based on the number of students testing, award a certain number of honorable mention places.
Abigail Russell brought home 6th place in "Introduction to Parliamentary Procedures" as well as an honorable mention in "Introduction to Financial Math" with a 14th place.
Lillian Dorshorst brought home two honorable mention places in "Agribusiness"(10th place) and "Introduction to Business Procedures"(11th place).
Other students who attended the competition were Gabe Varvel, Ashley Tobiasson, Gage Mintken, Gabby Twarling, Alexa Tonjes, and Brooke Winter.
When not taking tests the students attended different workshops.
Thank you to everyone who made this trip possible for our students. Especially Hay Springs Public School Board and Jessica Mintken for helping drive students to the competition and around Kearney. We are already looking forward to next year's trip!