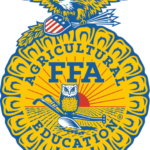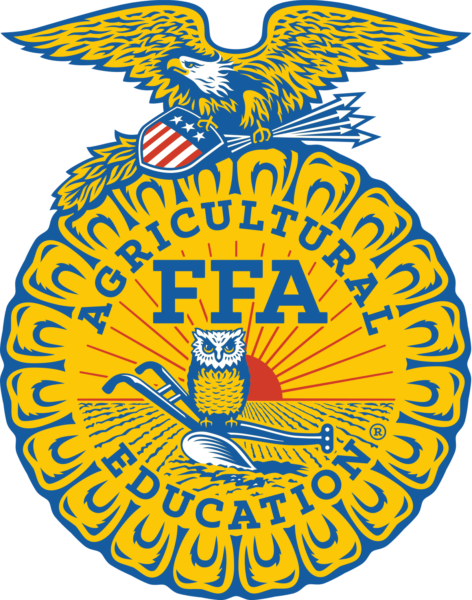 On November 17th the Hay Springs FFA Chapter conducted our Greenhand ceremonies for our 2019-20 members and our new 2020-21 FFA members. We also conducted Chapter Degree ceremonies for the 2019-20 members who were to receive their Greenhand degree last spring when we had planned our first annual banquet which was COVID canceled. Our ceremonies only included members of the FFA member's immediate families and was live streamed by our great technology coordinator, Larel Reimann.
The evening began with the formal opening ceremonies conducted by the 2019-20 officers who include Seniors, president Hannah H, treasurer Jaiden A, parliamentarian RyLee W, Juniors, secretary Laney S, chaplain Jazlyn S, sentenal Logan D and historian Elissa R, and Sophomores, vice-president Braydon B, reporter Jett R. Following the opening ceremonies Ms. RyLee Wolken presented a welcome followed by an invocation by Jazlyn Smith.
The formal Greenhand Degree ceremonies were conducted by 2019-20 officers and Mr. Lechtenberg. As part of these ceremonies Abigail Nelson, Adrianna Haffner and Abigail Russell each presented the FFA Creed, which outlines the basic belief of all FFA members. Greenhand Certificates and pins will be presented during Ag class in the near future. Students receiving the Greenhand degrees were: Jaiden A, Hannah H, Bailey S, RyLee W, Logan D, Elissa R, Laney S, Jazlyn S, Braydon B, Colter M, Jett R, Toby S, Augustus S, Hally J, Mia S, Breely S, Molly S, Jarhett A, Jordyn A, Adrianna H, Noah K, Ava M, Abigail N, Abigail R, Taden T, Alexa T
Following the Greenhand ceremonies Mr. Lechtenberg acknowledged members who successfully participated in District XII and State Leadership Skills Events and the Career Development Events. Those members receiving individual awards during the 2019-20 were; Hannah H, Jaiden A, RyLee W, Bailey S, Laney S, Jazlyn S, Braydon B, Colter M, Jett R, Toby S, and Augustus S. Individual Leadership Skills events areas where our students received awards included Senior and Junior Public speaking, Cooperative Speaking, Extemporaneous Speaking, Creed speaking and Employment Job Skills Interview competition.
Hay Springs chapter members also received Leadership Skills Event team awards in Senior Parliamentary Procedure where we had two teams competing and receive a blue and red awards.
In the District and State Career Development Events competition students received individual and team recognition in the following areas of competition; Agri-Science, Floriculture, Livestock Management, Livestock Selection, Meats, Agronomy and Farm Business Management competition.
Mr. Lechtenberg also recognized and thanked those businesses and individuals who have supported our chapter in its first year of reinstatement as a member of the Nebraska FFA Association and the National FFA Organization.
The 2019-20 officer team then conducted the ceremonies for those individuals that have met the requirements for the FFA Chapter Degree. Those members receiving the Chapter Degree included; Jaiden A, Hannah H, Bailey S, RyLee W, Logan D, Elissa R, Laney S, Jazlyn S, Braydon B, Colter M, Jett R, Toby S, Augustus S, Molly S. These students will also receive their Chapter Degree medals and certificates during class in the near future. These students have developed Supervised Agricultural Experience programs and are well on their way to receiving their State FFA degree in their senior year. Congratulations to these students on their accomplishments in FFA and we encourage them to continue to growth through their involvement and participation in our FFA activities.
The final event of the evening was the installation of the 2020-21 by the 2019-20 officer team. Our 2020-21 officers were selected after five members of our committee served as a nominating committee to review the applications of fourteen very qualified students to select the individual students to serve as members of the Hay Springs FFA Chapter Officer team for 2020-21. This group of officers will serve our chapter until May when hopefully we can conduct are first annual banquet honoring the achievements of 2020-21 competitions and installing officers for the 2021-22 year. Our 2020-21 officer team includes President-Hannah Hoos, Vice-President-Jaiden Anderson, Secretary-RyLee Wolken, Treasurer-Molly Spicer, Reporter-Bailey Scherbarth, Parliamentarian-Logan DeCoste, Sentential-Jett Rasmussen, Jr. Adviser-Braydon Binger, Historian-Breely Smith, and Chaplain-Mia Skinner. Congratulations to our new officers as we look forward to a very successful year.
The evening concluded with the closing ceremonies and the pledge to our flag.
Other FFA Events
On November 4th the new Hay Springs FFA jackets arrived so that all of our members now have jackets and are ready to represent our chapter with pride wherever we travel for events and competition. Our first competitive event will be held virtually as our members will compete in the District XII Leadership Skills Events on December 9th. Students will be competing individually in Senior Public Speaking, Cooperative Speaking and Creed Speaking and in the Parliamentary Procedure and the Chapter Conduct of Meetings team events. We want to wish these students the best of luck as they attempt to advance to state level competition.