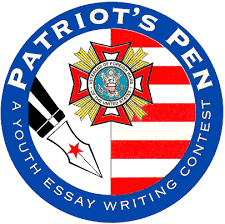 Every year the Veterans of Foreign Wars sponsors an essay contest titled, "Patriot's Pen." The contest is open to middle school students nationwide. Each year the students are given a writing prompt and are required to write 200-300 words to qualify for the contest. This year's prompt was titled, "What makes America great?" It is up to each writer to interpret and write what the prompt means to them.
This year Hay Springs 8th grader Ava McKillip was chosen to be the local VFW winner. From there, her essay was entered into the District competition. Again, Ava's essay placed first. Her essay is currently being considered in the Nebraska state competition. If Ava's essay receives first prize again she will be entered into the national completion. Ava would also receive an all-expense-paid trip to Washington D.C.
I think everyone associated with Hay Springs can be proud of the accomplishments of Ava. We are blessed to live in the United States and Ava's essay demonstrates how our young people do not take that gift for granted. Good luck Ava! Hay Springs is proud of you! — Mr. Bounous
Here is the text of Ava's essay:
What Makes America Great?
"What makes America great?" is a question all of us Americans should ask ourselves. We have the freedom to study whatever religion we please, we have the right to vote on the leaders of our nation, and freedom to express ourselves.
For one thing, America gives people the privilege to study and practice the religion of their choice. People come to America specifically to exercise their religions without being persecuted. In some countries, people are lead to believe solely in one religion and one religion only. If they choose not to follow that religion or speak against it, they can suffer persecution. Being able to practice our religion is a gift we shouldn't take for granted.
Another reason for our country's greatness is that we have the right to express our opinion through voting for our country's leaders and policies. Firstly, voting for our leaders gives us a voice on whom we think should lead our country. We can choose a candidate who represents our opinions and beliefs. As citizens of America we can vote on different policies affecting us locally, at a state level, and nationally. Several examples are county property taxes, doing away with daylight savings time, gun control, and health care.
The freedom to express ourselves is another aspect of making our country so great. Some other places in the world don't allow people to have their own social media account, let alone put their opinion about leaders or current topics. Also, we can write articles in newspapers and magazines expressing our opinions, speak on TV, as well as post opinions on our social media pages. These are all different ways to convey our opinions to the public.
People immigrate to the United States of America to be able to freely study and practice a religion of their choice without persecution. They come to America to be able to vote for their leaders and freely express themselves and their opinions. People come to America because it is the BEST place ever!!! I am proud to be an AMERICAN!!!!