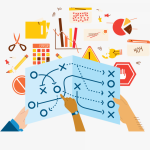 It seems the initial months of the 2019-2020 academic year have evaporated into thin air. Our students and staff members have gotten off to a great start. The first term ended on October 10th, final grade reports were given to parents/guardians on October 24th during parent/teacher conferences. If you have not received your child's grade report please contact the front office.
Our students recently completed a series of on-line MAP (Measure of Academic Progress) tests in Reading, Language Arts, Math, and Science. The MAP tests are adaptive which helps teachers, parents, and the administration improve learning for all students and make informed decisions to promote our students' academic growth. Our teachers are currently visiting with their students to establish specific performance goals for the remainder of the 2019-2020 academic year.
Our FFA, FBLA, band, vocal music, cross country, football, and volleyball programs have enjoyed the fall activities season. We encourage all of our students to take advantage of the wide array of co-curricular programs offered at Hay Springs Public School. Whichever activities our students choose to enjoy, it is important to note that the benefits are not limited to just higher academic achievement, benefits also include the opportunity to more fully develop their social skills, life skills, and God given talents.
Congratulations to the students that made the 1st quarter Honor Roll and/or achieved an attendance record of 95% or better. Please continue to reinforce healthy habits with your children that promote regular school attendance and homework completion.
Finally, the school community of Hay Springs has much to be grateful for during the upcoming season. I would like to wish all members of our school community a Happy Thanksgiving and safe, bountiful harvest season.
Respectfully,
Mark J. Hagge