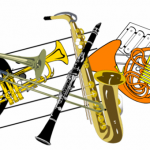 Kindergarten, 1st, 2nd & 3rd grade will be having their fall concert in the auditorium on Tuesday, October 8th at 6:30pm. K/1 will be doing a musical called Old MacDonald's Farm and 2nd & 3rd grade will be doing one called Where the Wild Things Are.
4th grade students have been working on the recorder the last few weeks! These students are doing an amazing job! They may be the best recorder players I've ever had! If you know a 4th grader, ask them to play for you!
5th grade band is up and running! Students are working on their first 5 notes! I'm trying to send home a video to all the parents each Thursday so they can see the progress these students make. What a fun time!
Please note a date change for the Santa Soup Cook-off and the Night, the Lights and Music concert! Both of these events will be held on Sunday, December 8th with the concert beginning at 3pm and the cook-off following the concert! Sorry for the change of date-please make this change on your calendars!
CALLING ALL SINGERS! We will once again be having a community choir for the Nights, the Lights and Music concert. Rehearsals will begin on Sunday, October 20th from 6:30-8:00pm in the music room. Mrs. Jungck will again be our fearless leader! Spread the word and bring a friend!
Upcoming dates:
Friday, September 27th, 12:30pm HAWK Stadium – PEP BAND
Saturday, September 28th, 8am depart; 5pm return – CSC Homecoming
Tuesday, October 8 6:30pm, Auditorium – K-3 Fall Concert
Friday, October 18th 12:30pm, HAWK Stadium – PEP BAND
SUNDAY, December 8th 3pm, Auditorium – ML/HS band & choir