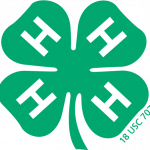 Shooting Sports Practice
Shooting Sports practice for BB Gun and Air Rifle will start on October 7th. They practice from 3:30 to 7 depending on when the youth show up. During October through December, practice is held the first and third Mondays of the month. In January they will start practicing every month and start attending the Panhandle Best Shoots. Youth need to be registered for 4-H to participate. Parents need to sign waivers the first meeting. Please contact Bruce Salisbury or Donna and Kevin Jech for more information.
Baking Basics
The October Baking Basics will be held on November 1st. At this workshop youth will prepare for the colder weather while baking some delicious treats. The youth will continue to work on their sewing project for the year. The fee for this workshop is $10. Please register by October 28th by contacting Melissa Mracek at mmracek2@unl.edu or (308) 327-2312. This event is open to anyone interested in baking and sewing projects.
Nebraska 4-H Shooting Sports Leader Certification Workshop Offered in Chadron
Nebraska 4-H Shooting Sports Leader Certification Workshop is scheduled for early October in Chadron. It will be held October 12-13 at the Dawes County Fairgrounds in Chadron. The deadline to register for the Chadron training is October 2nd by 5 pm.
Volunteers have the opportunity to become certified as an adult (21 years and older) or apprentice (14-20 years old) leader. Four project areas will be offered at the Workshop – rifle, shotgun, pistol, and coordinator. The Coordinator certification being offered in Nebraska 4-H Shooting Sports is for individuals who work with certified shooting sports leaders, 4-H club leaders for shooting sports projects, or 4-H volunteers managing shooting sports events/competitions.                           
The registration fee is $110.00 per person for initial certification and those individuals adding an additional discipline except for Apprentice Instructors. The registration fee for Apprentice Instructors is $90 for this workshop. This fee includes meals, supplies and program materials. The registration fee after October 2nd is $160. Participants must make their own lodging arrangements. Registration on Saturday runs from 8:00 a.m. to 8:30 a.m.
For more workshop information and registration link, go to https://events.unl.edu/NE4H-Shooting-Sports/search/?q=Shooting+Sports+Leader.  Or contact Nebraska Extension-Sheridan County Office at (308) 327-2312. Registration is available only online at the link provided in the brochure or they can register directly by clicking https://events.unl.edu/NE4H-Shooting-Sports/search/?q=Shooting+Sports+Leader.
Clover Bud Workshops
The Hay Springs Clover Bud workshops will be held on the third Thursday of the month starting on October 17th from 4 to 5 pm. Clover Bud members are youth between the ages of 5 and 7 as of January 1st, 2020. These youth will experience teamwork, social interaction, and decision making skills while participating in hands on activities. Upon participating in these workshops, youth will have Clover Bud projects to display at the 2020 Sheridan County Fair. To register your child for these FREE events please contact Erika Gaswick or the Nebraska Extension Sheridan County office at (308) 327-2312.