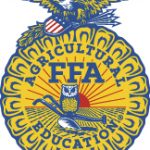 Congratulations! Hay Springs FFA Chapter has been issued a FFA Charter by National FFA!
We received an email on Monday September 16th that the Hay Springs FFA Chapter Application had been approved at the State and National level and has been added to the list of 189 Nebraska Chapters with over 9,000 Nebraska members. The annual State FFA Convention is held each spring in Lincoln with over 5,000 members in attendance. This will provide great opportunities for Hay Springs students to develop leadership skills, personal growth toward career success as well the opportunity to be involved in our community improvement and become advocates for Agriculture. The Agricultural Science / FFA program is a diverse educational program which allows students to develop Agricultural and leadership skills through involvement in FFA, Ag classroom instruction and the development of an SAE (Supervised Agricultural Experience) program where they will receive hands-on experience.
We plan to have our first Official Hay Springs FFA meeting September 17th where we will conduct officer elections and begin planning activities for the 2019-20 school year. The original Hay Springs FFA chapter was in existence from the mid 1940's until 1964. Our students are very excited about this opportunity and if you have an interest in supporting our youth in this organization please contact Mr. Lechtenberg at the school.