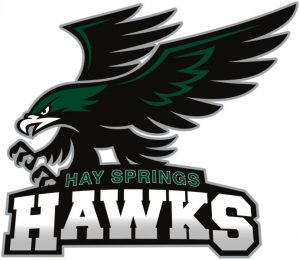 D6 State Football Semifinals- Information
WHEN – Friday, November 9th vs. Minatare Indians
TIME – 5:00 pm
WHERE – HOME!
No Passes will be accepted – $7.00 adults and $5.00 students
PEP RALLY – It's time to make some noise and cheer on the Hawks! Community and students are invited to the Pep Rally at 3:15 pm Thursday, November 8th in the Old Auditorium
TAILGATE PARTY –  Junior High Girls Basketball will be sponsoring the tailgate this Friday.  Assorted flavored Bratwurst, Chips, Beans and Dessert will be served.  Beginning at 4:00 pm.  Free will donation.
Game will be aired on –
KBPY 107.7 FM or go to www.chadrad.com and click on the listen live tab.
KNEB 94.1 FM out of Scottsbluff
Game will be live streamed on –
NFHSNetwork – (Please note, this is not a free-to-watch stream and you will unfortunately have to pay to view this broadcast…or just come to the game!)