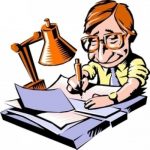 Thursday, Feb 28th, the third and fourth grade were part of a worldwide Skype with an Author. Henry Winkler and Lin Oliver answered questions and discussed their work together. Winkler, who is dyslexic and had learning problems all his life; succeeded as an actor, producer, and now author. Some of you may remember him as the Fonz on the television series "Happy Days".
Winkler and Oliver are authors of the Hank Zipzer series. Hank is a smart, funny, intelligent boy who has learning challenges. The stories are about his everyday adventures and misadventures. An interesting note: The font used in the books is called Dyslexia and was created by a typesetter who had children with dyslexia. It is easier to read than the usual font used in most books.
If you would like to view this author visit. Click here.