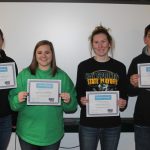 Hay Springs High School Students competed in the Fall Finance Challenge!
The Finance Challenge is sponsored by the Nebraska Council on Economic Education. The challenge promotes budgeting and general financial literacy in a competitive environment.
We had two teams that competed in the Fall Finance challenge which is a computerized test where students compete against other Nebraska teams. Hay Springs teams competed against 385 other high school teams. Our Accounting 1 team which was comprised of Kaelob Marx, Mattie Johnson, Erin Kadlecek and Payton Schoenhals placed second place winning $20 each. Our second team Personal Finance 1 was comprised of Sam Kearns, Addie Regier, and Thomas Scherbarth and they ranked 92nd in the High School Division.
Students will also compete in the Spring competition in late March. If the students are in the top five in the region they will advance to the regional competition and then on to the National Competition.