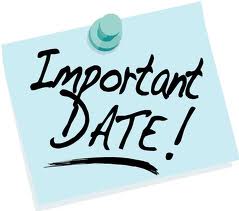 Upcoming Events and Changes to our Preschool Calendar 
Tuesday, May 14th : Academic Fair and PreK – 5th Grade Spring Concert
Preschool students will have a few things displayed at the Academic Fair.  The Preschool classes have also been invited to participate in the Spring Concert with the rest of the elementary school.  More details to follow.
Wednesday, May 22nd: Last Day of School For Preschool and Preschool Celebration
This will be the last day of school for all Preschool students this year.  We will have our Preschool Ice Cream Social and Celebration that evening at 6:30 pm.  Ice Cream will be provided, please bring your family's favorite ice cream topping to share!
Thursday, May 23rd : No School for Preschool; Elementary Fun Day
Preschool will not attend school this day.  However, all Preschool Students are in invited to attend the Elementary Fun Day in the afternoon with a parent.  There will be activities specifically for Preschool students to attend.