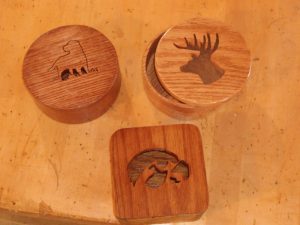 The purpose of this project is to: Design, construct and finish a personalized scroll saw box.
Sketch preliminary design
Technical drawing with dimensions, bill of materials
Prepare surface thickness
With some new additions to our shop lab, beginning wood students were given the chance to experiment on these keepsake boxes. Though small, the 8th grade went through all the problem solving processes that one would on any level of production.
Surface planing, lamination, shaping, and detail scrollwork were just some of the processes they encountered. Sanding and finishing remained the least popular chore, but its significance was made evident as some of the projects that came to me for final inspection were returned to start the finish process back to the beginning! All in all the kids did a great job and the satisfaction of seeing the boxes take shape from paper to reality showed in the pride on their faces. Here are just a few examples.