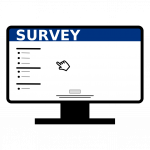 Hay Springs Public Schools will be taking part in Strategic Planning this year, similar to what our district did last year. We are partnering with the Nebraska School Boards Association again this year and will be sending out surveys to the parents whose email addresses that we have on file. We ask you to take the survey and share your view point on all aspects of our district.
Employees, Board Members, Parents and Students (5-12) will be provided the opportunity to take the survey starting on January 23rd. The school district will utilize the feedback from the surveys to set goals to keep improving the educational process and experience for our students. Names of those who take the survey will not be shared with the school.
Thank you for your support of Hay Springs Schools, and thank you for giving us your perspectives on how we are doing. If you have any questions, please contact me.
Sincerely,
George Clear