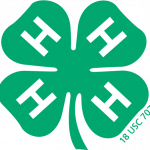 Clover Buds
The Hay Springs Clover Bud workshop will be held virtually on March 5th from 10-11 am. Please register for the Hay Springs event with Marie Nelson by March 3rd. Clover Bud members are youth between the ages of 5 and 7 as of January 1st, 2021. These youth will experience teamwork, social interaction, and decision-making skills while participating in hands on activities. Upon participating in these workshops, youth will have Clover Bud projects to display at the 2021 Sheridan County Fair.
Speech Contest
Speech date for Sheridan County will be 2:00 pm on May 23rd at the Gordon City Hall. The Speech and Public Service Announcement (PSA) contests provide 4-H'ers the opportunity to learn to express themselves clearly, organize their ideas and have confidence. The 2021 state PSA theme is "Opportunity 4 All", and time limit is 60 seconds. Contests are open to all 4-H'ers ages 5-18 (by January 1 of the current year) — need not be enrolled in a specific project. Speech lengths for: Clover Bud – under 2 minutes, Junior – 1-3 minutes, Intermediate – 3-5 minutes, Senior – 5-8 minutes. Youth may choose to participate in either or both the Speech and PSA contests. If questions, contact Marie Nelson at mnelson82@unl.edu or 308-327-2312.
YQCA Training
Youth who are interested in participating in a livestock animal project including: rabbit, poultry, swine, beef, sheep, and goat; must complete the Youth for Quality Care of Animals training prior to June 15th. After families enroll online at ne.4honline.com, they can visit https://yqca.learngrow.io/Account/Login and login with their 4-H Online account information. Youth have the option of completing the training in person or online. The online training costs $12 per person and the in person training only costs $3. The first in person training will be held on March 12th starting at 9 am at the Sheridan County Extension office, and the second in person training will be March 25th at Hay Springs Public School at 4:15 pm. Youth will need to go online to register for the training prior to this date. For help you can email help@yqca.org or contact Marie Nelson at mnelson82@unl.edu.
Sewing Workshops
Start working on your clothing/quilting projects for fair now! Free sewing workshops at the Extension Office:
March 12th 1-4 pm
March 26th 1-4 pm
Sheridan County 4-H Scholarship – Due April 15th
The Sheridan County 4-H Council is sponsoring a $500 scholarship to be awarded to a senior of Sheridan County who has been involved in 4-H. The application for this scholarship is due on April 15th via email to Marie Nelson at mnelson82@unl.edu or mailed to the Extension Office at PO Box 329 Rushville, NE 69360. Interested participants need to complete a simple two-page application answering questions about their 4-H experience. The scholarship application can be found at: https://extension.unl.edu/statewide/northernpanhandle/scholarship-opportunities-sheridan-county/. For more information, please contact the Extension Office at (308) 327-2312.
Horse Level Testing
This year's District Horse Show will be held in Scottsbluff on June 14th. To participate youth must complete their Horse level 1 and 2 prior to May 7th. Youth can visit the Extension Office to complete their test. For more information and written test prep materials visit https://4h.unl.edu/horse/district-shows.
Save the Date – Wilderness Wonders
Come Outwit, Outplay, and Outlast at the 2021 Wilderness Wonders Camp. Test your survivor skills at this summer's Wilderness Wonders Camp! New this year, there will be two one-day camps. On June 2nd, youth in grades 3rd through 5th will be challenged on how they can survive in a group through this hands on camp. This camp will be held from 9 am until 5 pm at Camp Norwesca. The camp is limited to 40 campers with a $40 fee.
June 3rd will be a one-day camp for youth ages 5 to 7 or grades K-2. These youth members will be challenged with their own set of survivor skills from 9 am until 2 pm at Camp Norwesca. This camp is limited to 25 youth and will have a $30 fee. Youth will need to bring their swimming suits and towels to the June 3rd camp. The camp application can be found at https://extension.unl.edu/statewide/northernpanhandle/4-h-event-calendar/.
Applications are due to the Nebraska Extension-Box Butte Office at 415 Black Hills Alliance, NE 69301 by May 14th. Please contact the Extension Office if you have any questions.