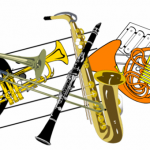 It is SO GOOD to get to be back to making music with your students! In an effort to keep students safe, the music room has made a few adjustments. All classes meet in the auditorium where we have plenty of space to socially distance from each other. All band students have covers for their instruments in an attempt to limit the amount of aerosols put into the room. We are also limiting our rehearsal time.
As of the time this article was due, we are not certain how to proceed with concert planning. As soon as a decision is made and a concert schedule is set, information will go out! Stay tuned…
INSTRUMENT DONATION: If you have an instrument that is just collecting dust, I would encourage you to consider donating it to the school for someone to use! Thank you in advance for considering it!!
High School Band will be again selling Little Caesars Pizza Kits from 9/7-9/24! If you are interested and no one has stopped by to see you give the school a call and we will make sure to get someone to you!
Upcoming dates:
Keep an eye out for dates in the near future!