Second grade collected coins for a kindness challenge for our former Hawks that are currently in the military. We raised $200 for 5 care packages! Joey and Jake Johnson, Coy and Colton Wolken, and Nate Tobiasson all had a care package made for them. Thanks Hay Springs School for making this happen!!
Second grade had fun sorting and filling the care packages to be mailed. Items in the package were things like stress balls, magazines, a deck of cards, jerky, candy and snacks.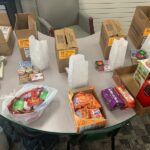 In second grade some chose to dress up like they were 100 years old. Mrs. Vander May had to talk louder and walk slower for all the old folks in the class that day! A few grumpy grandpas wanted to take an afternoon snooze, but there was too much fun learning to do!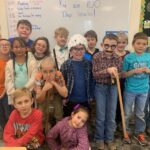 Second grade read a chapter book called Flat Stanley His Original Adventure. We learned about a young boy who got flattened by a bulletin board then he mailed himself around the world for epic adventures! Each second grader made their own flat Stanley by coloring, laminated and cutting them out. Then we addressed our envelopes to send him to family and friends around the world. Second Grade walked to the post office to mail off their Flat Stanley and send off the care packages on Monday February 24th.