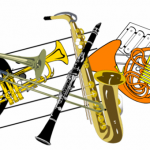 Congratulations to the following students for being selected into Class D All State Band held in Kearney, NE at UNK on Saturday, March 28th: Angelica Volquardsen (Jazz Band); Jocelyn Varvel (Wind Ensemble); Gabriel Varvel (Wind Ensemble); Ashley Tobiasson (Symphonic Band) & Sam Hindman (Symphonic Band) & Mia Skinner (Symphonic Band).
Congratulations to Sam Hindman, Logan DeCoste & Gabe Varvel for being accepted into the CSC Honor Jazz Band. These students will rehearse on Monday evenings from 7-8:30pm with a final concert on Monday, March 23rd from 7-8pm.
4th-6th Grade students will have a program on Tuesday, March 24th at 7pm. 4th & 5th graders will present a musical all about being a good friend that the high school performing arts class has written. The 6th graders will perform Musical Planet where they have researched different countries and perform songs from these countries. The 5th grade & 6th grade bands will also perform. Looking forward to sharing this with you all!
Please give a big Hay Springs Hawks welcome to Ms. Ghita Dykes who recently joined our music team as our new accompanist! We are very thankful to have her aboard! Ghita is working with our 7th/8th grade choir, our high school choir and solo's and small groups as well as our instrumental solo's! Keep an eye out for her at our middle level/high school Pre-Contest Concert!
Upcoming dates:
CSC Honor Jazz Band Monday, March 23rd
4th-6th Grade Spring Concert Tuesday, March 24th
Class D All State-UNK Saturday, March 28th
PANCO Music Contest Monday, March 30th Edgemont
Pre-Contest Concert & Recital Tuesday, April 21st @ 7pm
District Music Contest Wednesday, April 22nd-Alliance High School