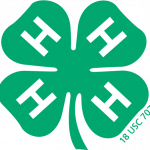 December Baking Basics
The Hay Springs December Baking Basics will be held on December 13th. At this workshop youth will prepare and decorate sugar cookies for Santa's Bakeshop. Youth will be able to take some of the cookies made home to enjoy, and the other cookies will be shared with elders in the community. The youth will also continue to work on their sewing projects. The fee for this workshop is $10. Please register by December 6th by contacting the Nebraska Extension Sheridan County office at (308) 327-2312. This event is open to anyone interested in baking and sewing projects.
Clover Bud Workshops
The Hay Springs Clover Bud workshop will be held on December 19th from 4:00 – 5:00 pm. Please register for this event with Erika Gaswick by December 12th. Clover Bud members are youth between the ages of 5 and 7 as of January 1st, 2019. These youth will experience teamwork, social interaction, and decision-making skills while participating in hands on activities. Upon participating in these workshops, youth will have Clover Bud projects to display at the 2020 Sheridan County Fair.
Market Beef Weigh-ins
If your youth is interested in participating in the Market Beef project at the 2020 Fair, they need to participate in a weigh-in. At the weigh-ins, youth will receive a 4-H ear tag along with being weighed. If they attend the Sheridan County weigh-in, the youth will be entered in the Sheridan County Fair Rate of Gain Contest. If the Market Beef animal is a steer they must weigh 1000 pounds at the weigh-in in July and heifers must weigh 900 pounds. The Sheridan County weigh-in will be held on January 26th from 1 to 3 pm at Sheridan Livestock Auction. If the 4-H member is not able to attend this weigh-in, they can attend the weigh-ins at Box Butte County or Dawes County. However, they will not be eligible for the Sheridan County Rate of Gain Contest. The Box Butte County weigh-in will be held on January 5th at the fairgrounds in Hemingford tentatively from 9 to noon and the Dawes County weigh-in is tentatively scheduled for February 1st at Crawford Livestock Auction from 9 to noon. If you are planning on attending another county's weigh-in, please contact the Sheridan County office to ensure you have the required paperwork.