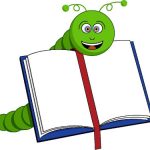 November Activities
The Kindergarten through Third grade students studied one author this month. We began with a biographical video then read books by each author.
Kindergarten – Eric Carle, author and illustrator
We read A House for Hermit Crab and The Mixed up Chameleon. After reading A House for Hermit Crab we decorated a picture of a shell for hermit crab's house.
First – Mo Willems
We read The Pigeon has to go to School and drew pictures of Pigeon. We also read I'm a Frog.
Second – Mem Fox, an Australian author
We read Magic Hat and drew what we would become if the hat landed on us. We also read Koala Lou.
Third – Eve Bunting
We read Dandelions, a book about Nebraska homesteaders and The Night Tree. After reading The Night Tree we talked and wrote about what the family experienced with their five senses.
Top Checkouts from Last Month
Picture Books
Llama Llama hoppity-hop
Pete the cat and the Cool Cat Boogie
Pete the Cats Checks out the Library
Scaredy-Cat, Splat"
Alexander, Who used to be Rich Last Sunday
Chapter Books and NonFiction
Eva and the New Owl
Amazing Snakes
Afternoon on the Amazon
Babymouse, Rock Star
Balto of the Blue Dawn
MS/ HS
The Heir
Stars above: a Lunar Chronicle Collection
Foul Trouble
The Friendship Experiment
Ghosts
Quote of the Month
"There is more treasure in books than in all the pirate's loot on Treasure Island." – Walt Disney
Events
December 9-12 Hour of Code week