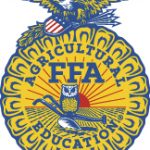 Congratulations to the Hay Springs FFA Chapter members for their success at District XII Leadership Skills Events!
Individual Competition
Jett Rasmussen Creed Speaking – Purple
RyLee Wolken Senior Public Speaking – Blue
Jaiden Anderson Cooperative Speaking – Blue
Hannah Hoos Employment Skills Interview – Blue
Colter Meeks Extemporaneous Speaking – Red
Toby Scherbarth Junior Public Speaking – Red
Team Competition
Senior Parliamentary Procedure Team
Blue – Logan D, RyLee W, Jaiden A, Hannah H, Jazlyn S, Laney S
Red – Braydon B, Jett R, Augustus S, Elissa R, Owen R, Blair H
District XII consists of 19 panhandle schools which are all eligible to bringing two teams or individuals in each contest areas. Mr. Lechtenberg was extremely proud of our student's performance for our first year in competition. Every member of our Chapter competed in at least one contest and four of our members competed in two contests. We would also like to thank Abigail Russell and Bailey Scherbarth for traveling with us and assisting in conducting the contests.