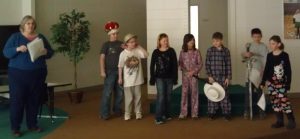 The fourth grade reading class recruited some third graders to help them put on a play.  The play they chose was "Rumpelstiltskin, Private Eye"  by Jason Sanford from Newfangled Fairy Tales, Book #2.
The miller approaches Rumpelstiltskin about his kidnapped daughter.  Seems he bragged about his daughter's ability to spin straw into gold and the next day the king kidnapped his daughter.  Rumpelstiltskin doesn't get along with the captain of the guard (who can never remember his name) so he has to sneak into the castle through the sewer.  When he finds the miller's daughter, he discovers he has been tricked.  The straw is coming into the castle and gold is going out, but it is from the treasury, not the daughter's talent.  Rumpelstiltskin must run for his life and figure out how to clear his name and save the king's treasury from the greedy con artists.
On the day, the king is to marry the miller's daughter Rumpelstiltskin appears at the castle. He leads everyone through the castle until he finds hidden straw (thanks to the captain's hay fever), reveals the con artists' plan, and tells the king where his money is hidden.
Play cast:
Jaiden Anderson – Narrator
Jake Roberts – Rumpelstiltskin
Kade Moore – Miller
Hannah Wohl – Happy
Jace Langford – Captain of the Guard
Miller's Daughter – Joce Varvel
The King – Hunter Letcher
Play Directed by Mrs. Matthews