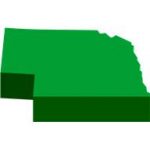 Hay Springs High School sent 50% of their wrestlers to state this year. Three of the six boys qualified at districts for the state competition. The three boys that are competing are Stevin Horrocks, Joe Johnson, and Levi Ray. The other members of the team are Chris Ray, Jordan Houser, and Kolten Marx. This is the first year in several that Hay Springs has had wrestlers qualify for the state competition.  At the district competition Stevin and Joe both placed third in their weight classes and Levi placed fourth in his weight class. Jordan lost in the heart-break round and neither Chris nor Kolten made it to the heart-break round.
The boys will be competing in Omaha this week at the Quest Center. The first round takes place on February 16 at 4:30 pm (CT). If you would like to keep track of how the boys do, go to http://www.nsaahome.org/wr.php Stevin is in weight class 220, Levi is weight class 126 and Joe is weight class 132. For a schedule of events go to http://www.nsaahome.org/textfile/wrest/wrsched.pdf .
KCSR and Chadrad.com will also be providing coverage of these and other local wrestling matches at 3:30 pm (MT) today.