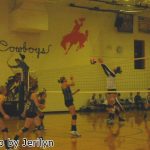 On Saturday October 1, the Hay Springs Lady Hawks traveled down to Cody-Kilgore to play them, Stuart and Hyannis in a Non-Conference game. The games started at 10:30 a.m. The Hay Springs Hawks Varsity Volleyball team lost against the Stuart Broncos in two sets. They also lost against the Hyannis Longhorns by in two sets. They won their game against the Cody-Kilgore Cowgirls in two sets.
Also on October 1 the Hay Springs Junior High volleyball team traveled to Hemingford for Panhandle Conference. The games started at 9 a.m. The first game was against Gordon Rushville. The Hawks lost 19-25 in the first round and 18-25 in the second. The second game was against the Valentine Badgers. The Hawks lost the first round 11-25. They made a close comeback in the second round but did not triumph coming up short 21-25.
Sam said, "We need to practice communicating."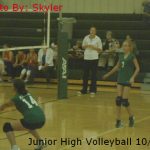 On Monday, October 3, the Hay Springs Junior High volleyball team faced off against Gordon Rushville for the second time. The game was at home and started at 4:30p.m. The Hawks were victorious and won their first A game. They played a great game winning 25-13 and 25-22. Their B team was also successful winning 25-15 and 25-14.
Emma said, "The game was awesome!"