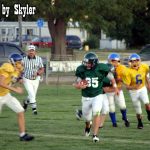 Touchdown! Last Thursday, September 22 at six O'clock p.m. the Hay Springs Junior High football team played at Morrill. Morrill scored before the quarter ended making the game 16-0. They scored again at the start of the second quarter. At half time the score was 26-0 with Morrill in the lead. They had a repeat in the third quarter with the score advancing 32-0. In the fourth quarter the Hawks started off with a first down as a result of a good run from Austin Reed and later ended up scoring the only touchdown of the night with the score being 32-6. Dakota Heiting also had a good run but penalties brought it back. The final score was Morrill 44, Hawks 6.
Drew said, "We need more practice."
The next Junior High football game will be at home on Saturday, October 8 against Sioux County at ten O'clock a.m.